Metode design thinking yang sebelumnya sering digunakan oleh desainer dalam membuat karyanya, kini banyak dipakai untuk mengorganisasi pikiran dalam merencanakan social impact. 27 September 2017 lalu, Vicky Gerrard, Design Researcher dari Cobanana dan Stephanie Lukito, Experienced Design Director, berbagi mengenai metode design thinking untuk menyelesaikan berbagai masalah sosial. Di acara Impact Nights yang bertajuk Design Thinking for Social Impact tersebut, PLUS bekerja sama dengan Impact Hub Jakarta at Coworkinc dan Jakarta Social Entrepreneurs Club.
Bagaimana Design Thinking bekerja
Design thinking
bisa digunakan kapan saja.
Design thinking
dimulai dengan berusaha berempati dengan yang ada di sekitar kita. Terdapat 5 tahap dalam
design thinking
, yaitu:
Discovery

(menemukan isu yang perlu diselesaikan).

Discovery

bisa dilakukan dengan banyak sekali caranya, misalnya

ethnographic observation, in-depth interview, shadowing, speed dating,

mengetahui

user persona

dan

user journey

.

Analysis

(mengolah hasil temuan dari tahap sebelumnya),

Ideation

(berusaha memunculkan ide-ide solusi untuk menyelesaikan masalah),

Prototyping

(membuat purwarupa produk atau solusi yang sudah direncanakan), bisa dilakukan dengan beberapa hal: visual thinking, storyboarding, build a model, model prototype, roleplay,

Evaluation

(mengevaluasi ide setelah mendapatkan feedback dari pengguna)
Kelima fase ini berjalan secara sirkular, sehingga dilakukan secara terus menerus dan berkelanjutan.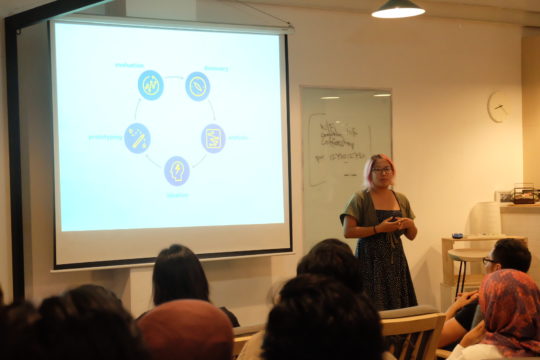 Secara sederhananya, Vicky akan menggambarkan design thinking sebagai proses mempertanyakan hal-hal dan mencoba. Tanyakan apa yang penting untuk orang lain atau apa yang perlu benar-benar diselesaikan. Lalu uji hipotesismu terus menerus.
Dalam design thinking, menurut Steph, sangat penting untuk tetap menjaga mindset yang lebih fleksibel. Jadilah spons yang tidak mengerti apa-apa dan menyerap apapun yang ada di sekitar. Buang dulu semua asumsi yang mungkin bisa berpengaruh.
"You must put yourself in the shoes of someone you observe," ungkapnya. Oleh karena itu, bagaimana cara kita membangun hubungan dengan komunitas yang ingin dibantu menjadi sangat penting.