Inclusive Islands is looking for 20 'Impact Initiators' from Medan, Padang, Pontianak, Makassar and Jayapura as future pioneers of change in their respective regions.
Delivered by the Social Enterprise Academy and Platform Usaha Sosial, this 12-month program is part of British Council's DICE Program. Inclusive Islands will provide learning and development opportunities for Indonesia's social entrepreneurs – uniting experiences from the unique remote islands contexts of Indonesia and Scotland.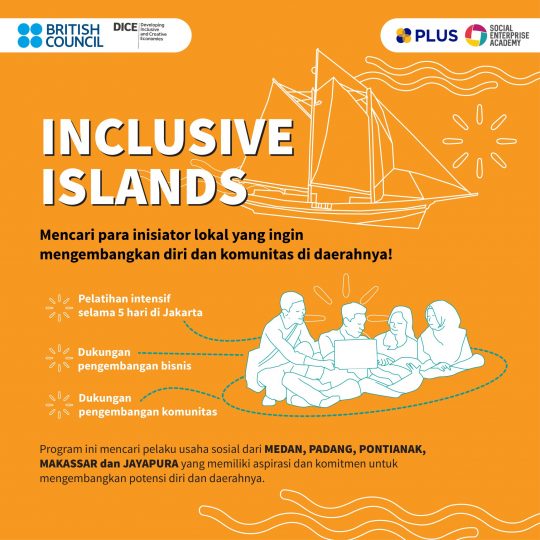 Who are SEA & PLUS?
People stepping up to change the world need support. The Social Enterprise Academy (SEA) exists to share transformational learning and development focused on leadership, entrepreneurship, impact and personal development. Drawing on its 14 year track record in Scotland, SEA has replicated internationally and now has 12 country partners offering responsive learning programs in the community, operated by local partners and facilitated by local practitioners. As well as supporting over 12,000 adult learners since 2004, SEA has enabled over 1,000 schools to start pupil-led social enterprises through their Social Enterprise in Education program.
Meanwhile, Platform Usaha Sosial (PLUS) as a social innovation and social enterprise hub in Indonesia has sought to connect social enterprises with ecosystems so that social enterprises can grow rapidly. Since 2017, PLUS has connected more than 250+ social enterprises, collecting database of more than 800 social enterprises, and provided consultations to more than 200 social enterprises in Indonesia. Together with partners, PLUS has helped create social innovation and build collaborative ecosystems for social entrepreneurship in Indonesia.
Learn and share experiences with other social entrepreneurs
With a track record in developing leadership capacity, entrepreneurship and social enterprise sustainability, this collaboration between SEA and PLUS strives to create more quality social entrepreneurs and can have a greater impact in the community.
This program–that targets social entrepreneurship in Indonesia–is called Inclusive Islands, a program that brings together 20 social entrepreneurs from cities throughout Indonesia, with 4 participants – called Impact Initiators – from each of the five different cities outside Jakarta, namely in Medan, Padang, Makassar, Pontianak, and Jayapura.
The program will run for 12 months in which 20 selected participants will participate in a bootcamp for 5 days in Jakarta, then participate in online learning and development for enterprise and community development assistance, so that at the end of the program, the Impact Initiators can launch and run social enterprises offline in communities in their respective regions.
Be part of the British Council DICE Project in Indonesia
The Inclusive Islands program is part of the British Council's Developing Inclusive and Creative Economy (DICE) program, where SEA and PLUS are the selected collaboration partners in Indonesia. DICE focuses on two issues that are intertwined and complex, requiring collaboration across organisations, sectors and countries:
Increased unemployment, underemployment and poor quality job prospects for young people in developing countries;

Lack of inclusive economic development in developing countries that translates to instability, dissatisfaction in politics and low economic growth.
DICE will contribute to solving the problem by stimulating and strengthening the social and creative entrepreneurship ecosystem in five developing countries – Brazil, Egypt, Indonesia, Pakistan and South Africa – in partnership with the United Kingdom.
This is an incredible opportunity to be part of a global initiative while making an impact!
Take advantage of SEA & PLUS' track record and experience
All activities that have been carried out by SEA and PLUS have been adapted to the needs of participants. All of our programs are conducted using two-way methods of communication that greatly value the uniqueness of each participant. Therefore, previous programs have covered a large number of topics and produced a variety of impacts.
SEA programs exist to support learning, behaviour change, organisational resilience and inclusive community outcomes with people across all impact industries, at all levels of ability and organisational growth. At an individual impact level – past learners have seen increased effectiveness in areas such as; communication skills, ability to delegate tasks and collaborate with others, leadership, endurance in carrying out tasks, and many more. At an organisational level – previous clients have seen increased impact in areas such as; financial stability, organizational culture, employee satisfaction, and increased ability to improve systems and products.
PLUS, as an SEA partner who understands the Indonesian context, has experience in giving training to groups of social entrepreneurs, female entrepreneurs, social start-ups, community-based enterprises, and many others. PLUS empowered them to be able to plan, launch products and test the market. Through PLUS programs, participants can determine more effective steps in developing their business.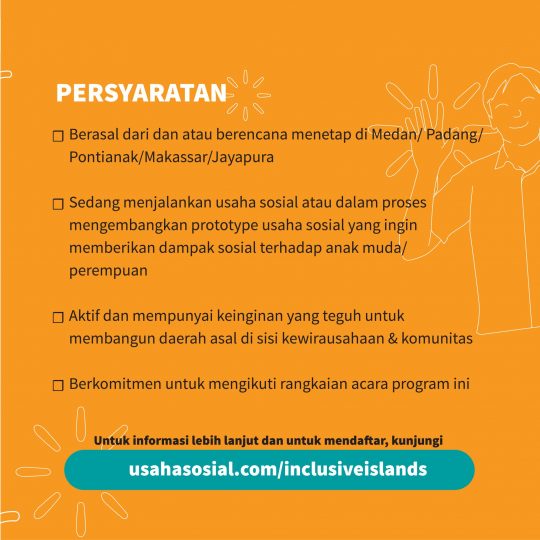 How can you take part in this learning opportunity?
We are sure, if you share the same vision as us – creating an inclusive and collaborative community for social entrepreneurs in Indonesia – then we will be able to learn together.
Be an Impact Initiator in your area. Building Indonesia is not just about lighting torches in the capital city, but also lighting candles all over Indonesia. Be the light!
To view the eligibility criteria, register, and have the opportunity to develop a community of social enterprises in your area, click here: usahasosial.com/inclusiveislands